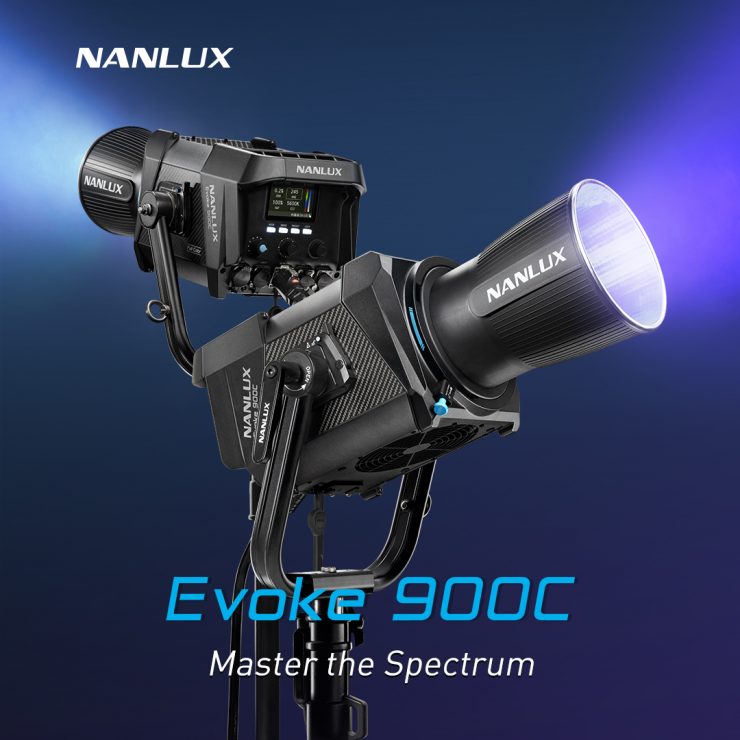 CHECK OUT BRAND NEW NANLUX EVOKE 900C- A 940W RGBLAC LED SPOTLIGHT
Nanlux over the years, have maintained their status as top player in the LED industry round the world. In addition to their catalogue of fixtures, they recently launched the Evoke 900 RGBLAC LED spot light. It is a powerful 940w fixture with an impressive color temperature range and beam spread of 60°.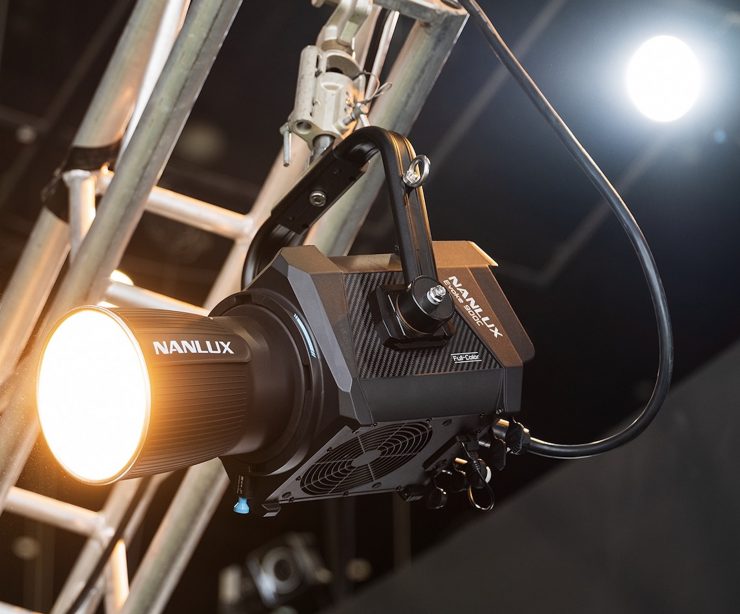 Also, besides incorporating lime, amber, and cyan LEDs, the light offers high CRI/TLCI ratings of 95 as your assurance of accuracy in color rendering. Its variable 1800 to 20,000K CCT allows you to use it on interiors, exteriors, and mixed lighting environments.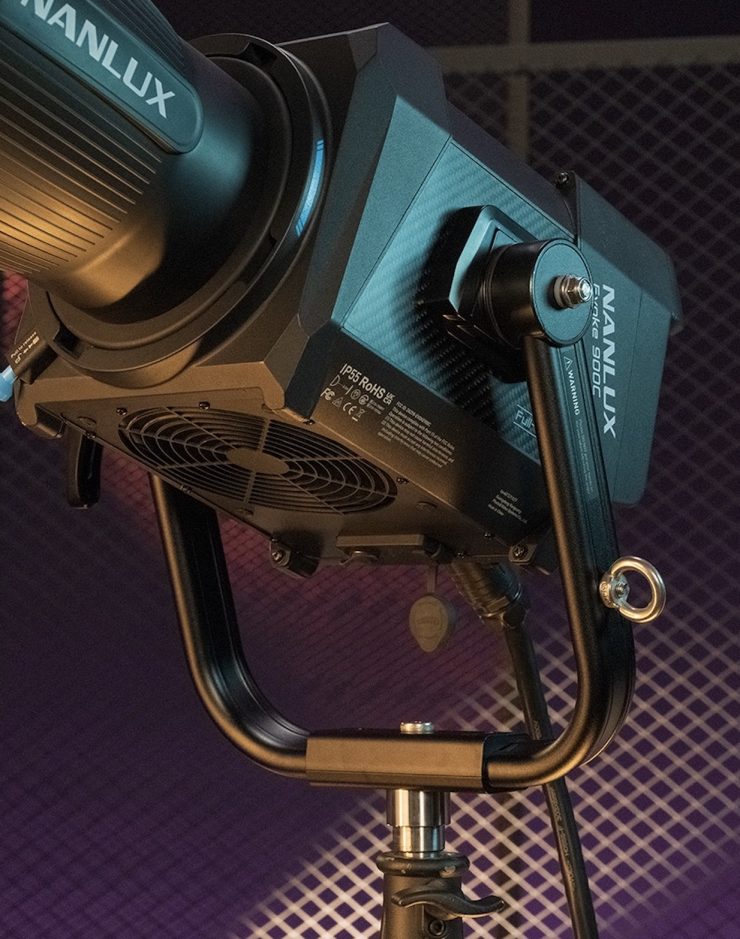 Some other Key features of Evoke 900C includes the following:
1) THE RGBACL SIX COLOR MIXING
Firstly, the Nanlux Evoke 900c, just like the ARRI Orbiter and Prolycht Orion 675 FS, doesn't use any white LEDs. Instead, all of the different color LEDs are blended together to produce white light. The advantage RGBACL has over RGBWW is that it is capable of giving you a larger CCT range and it can produce more saturated colors with more output. RGBWW lights tend to struggle to create saturated colors like yellow and they don't always have as much output when generating saturated colors. In addition, they can also have a large drop-off in output at different CCT settings
2) Onboard, Nanlink app via Bluetooth, and 2.4 GHz wireless control
Nanlux offers a generous bounty of methods to control the Evoke 900C supporting both wired and wireless control. the light also can be controlled via DMX/RDM, Art-Net/sACN, LumenRadio CRMX and the NANLINK APP. It also include an remote controller.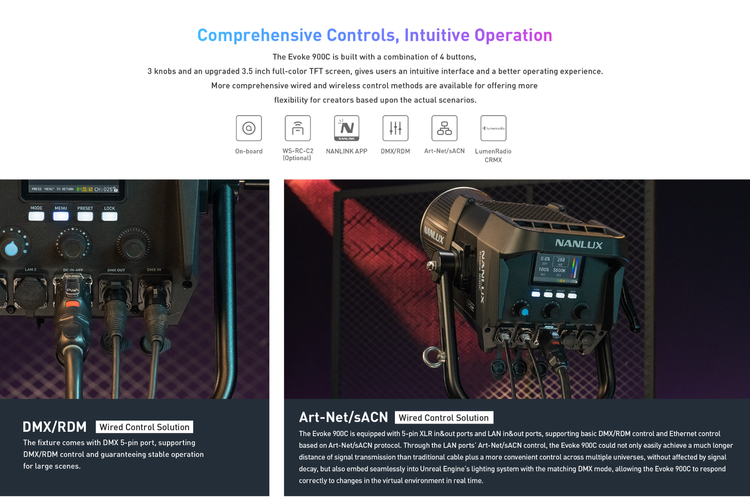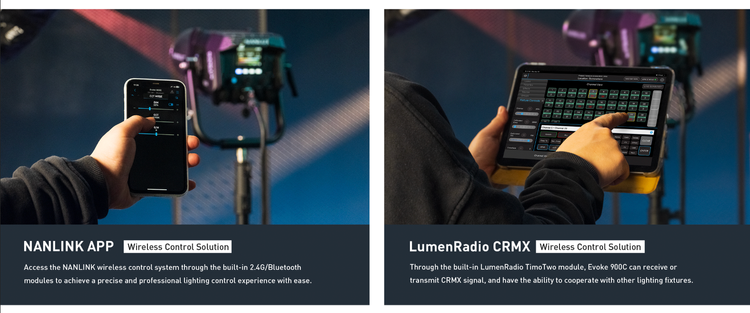 3) DIMMING
The Evoke 900C is dimmable from 0 to 100% in ultra-precise increments of just 0.1%. Dimming and other adjustments can also be made locally, via Bluetooth, over DMX/RDM, or by using other advanced options.
4) Lighting Effect
The Evoke 900C has 15 in-built lighting effects which gives gaffers more creative room on set.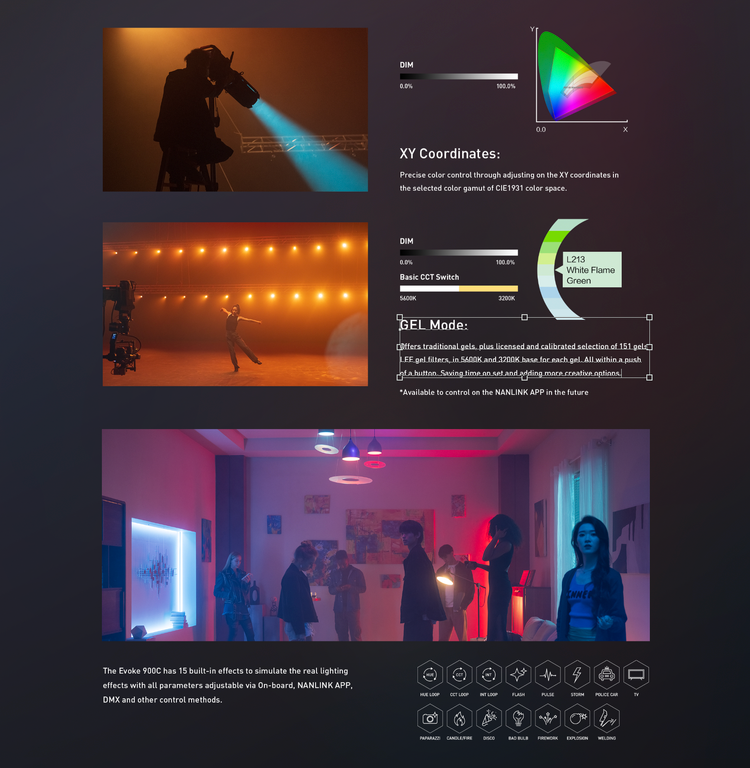 5) Weather Resistant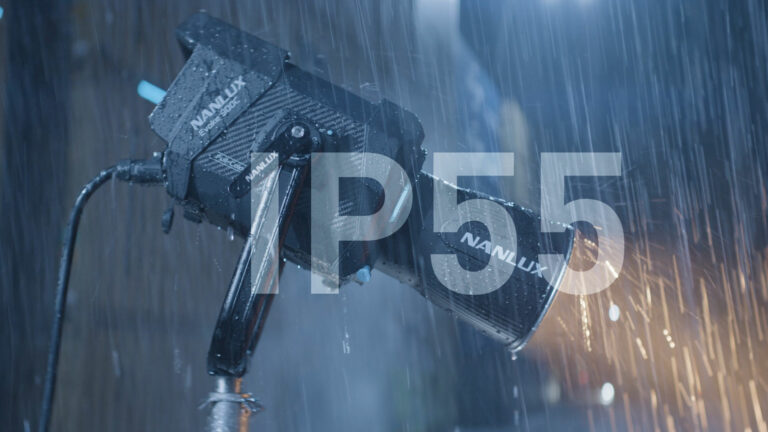 With a robust construction and a practical design, this 13 x 9.5 x 8.3″ fixture is rated IP55 for weather resistance, so you can use it outdoors or in wet weather.
6) FAN AND COOLING
The 900C has a large in-built fan to keep the fixture cool. The fan has a control system with four modes: SMART, HIGH FULL SPEED, LOW SPEED and OFF. Nanlux states that the noise level is 25dBA when used in its SMART mode.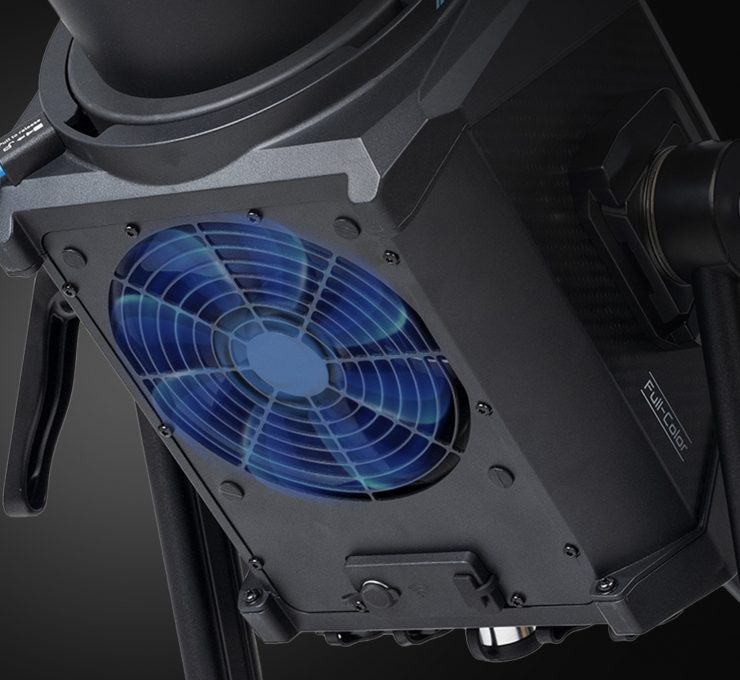 7) LIGHT MODIFIERS
The Evoke 900C can be used as a soft source by attaching lighting modifiers. At the front of the Evoke 900C, you'll find a Nanlux NL Mount to attach these various lighting modifiers. The NL mount is very robust and nothing you attach to it wobbles around. It has been designed to support a lot of weight. According to Nanlux, the Evoke 900C has a light output of 12,940 lux at 3m/5600K with the reflector.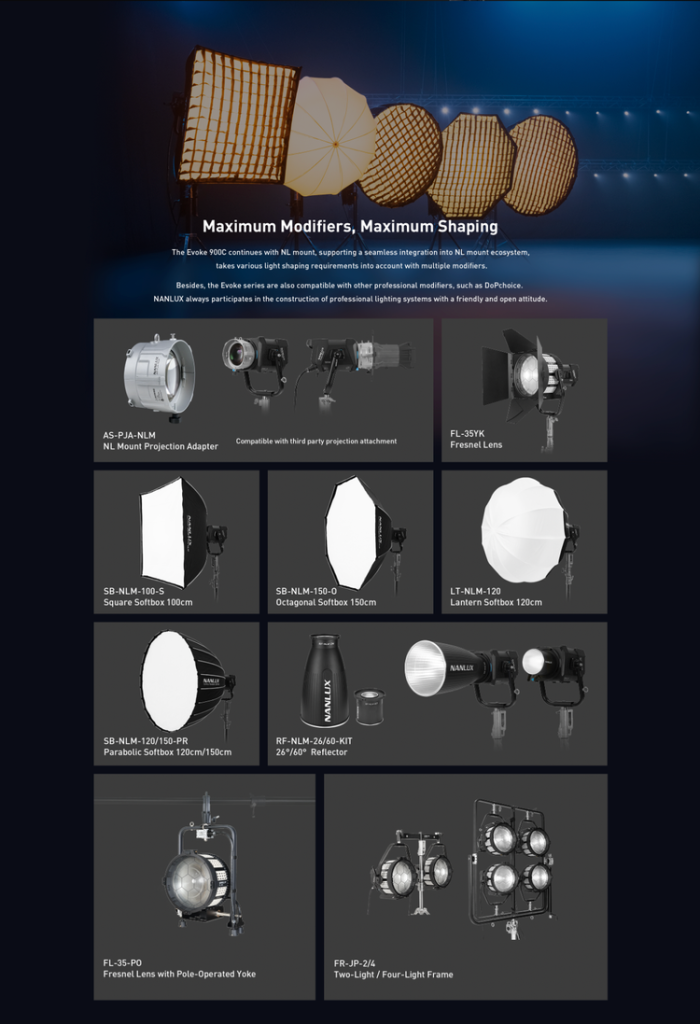 8) POWER
The Evoke 900C is a 940W unit ready to work in the studio plugged into a standard AC outlet. The included power supply ballast operates on a voltage range from 100 to 240 VAC. As a result, it can be used on location anywhere in the world. Additionally, it can also run on an optional DC battery source when main current is unavailable. This kit comes with a yoke, a 45° reflector, and a super clamp. A trolley carry case is supplied as well for easy portability, making it a complete lighting solution.
Complete Pack
The Evoke 900C comes with the following set of accessories:
1x Evoke 900
1x Yoke
1x Power Supply
1x RF-NLM-45 Reflector
1x DC Connection Cable 7.5M
1x AC Power Cable 6M
1x AS-CP-QR-EV Quick Release Clamp
1x USB Flash Drive
1x WS-RC-C2 Remote Controller
1x CC-ST-EV900C Trolley Case
1x User Manual
1x DMX Reference Guide
1x CC-EV1200-FT Flight Case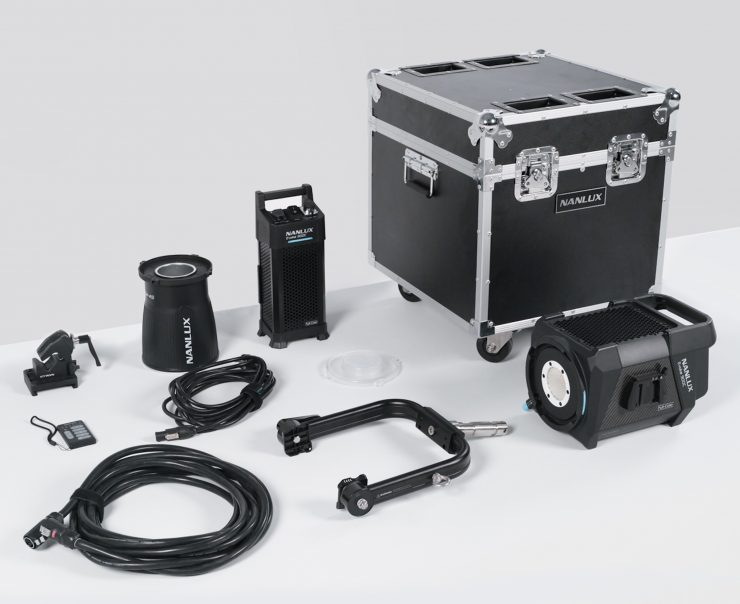 Finally, the Evoke 900C is a revolutionary new 940w LED fixture, which breaks free from the boundaries of traditional light sources. The Evoke perfectly combines stunning levels of illumination and incredible flexibility. It currently costs $4,660.00 which is relatively cheaper than some fixtures in its category.
CREDIT – https://www.nanluxamericas.com/