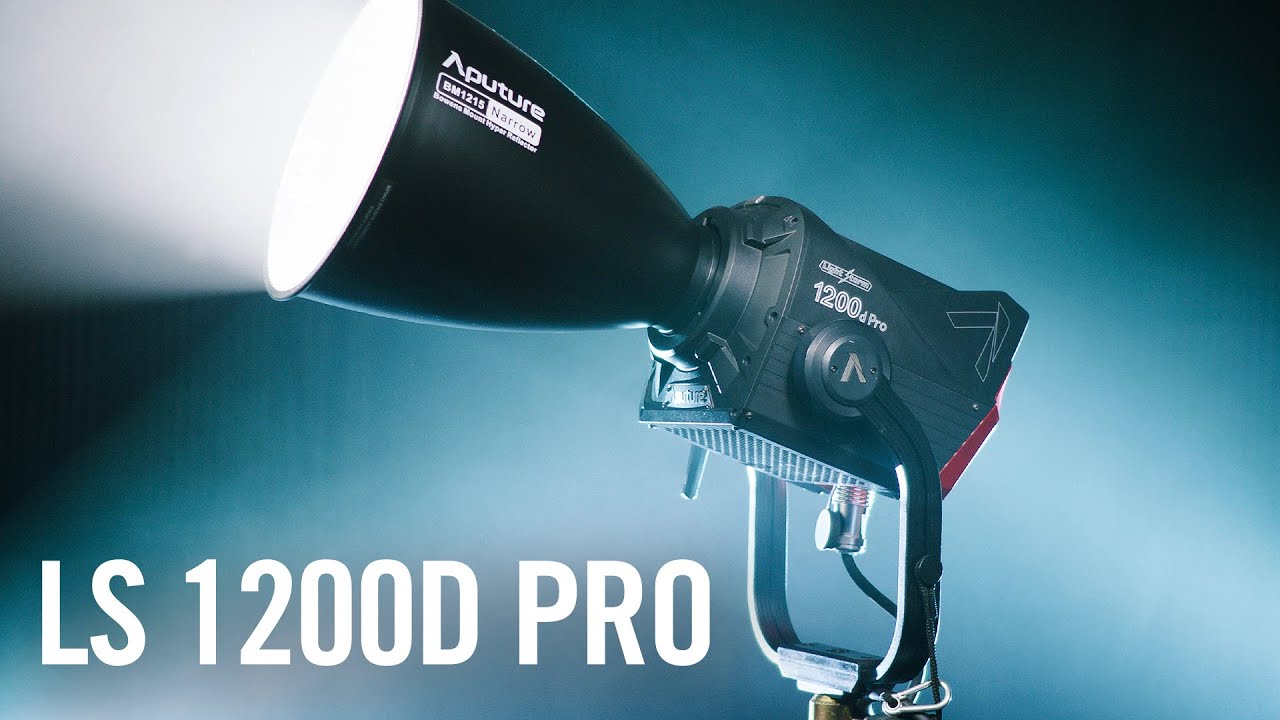 MEET THE APUTURE LIGHT STORM 1200D
The Aputure LS 1200d Pro LED Light is a powerful COB LED fixture. It has expansive power, control options, and 1200W Daylight COB chipset to compete on the same level as industry-standard HMI Lights. It also has a staggering 83,100+ lux output at 3 meters with the Hyper Reflector (Narrow). The Light Storm 1200d Pro is the flagship Light Storm product and the brightest fixture in the Aputure and Light Storm lineup. The precision fixture has a solid 5600K color temperature. Besides power, control is a driving force in the design of the 1200d Pro. The light supports multiple wireless control methods, including the Sidus Link mobile app and the built-in wireless DMX control.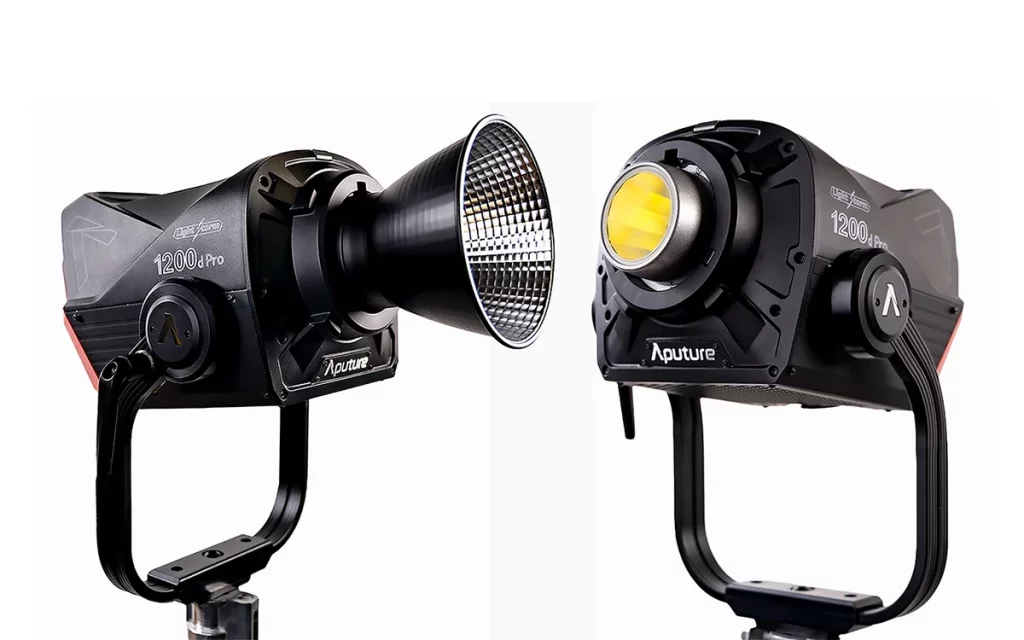 The Aputure LS1200D Pro has four dimming curves: Linear, Exponential, Log, and S-Curve, to ensure accuracy regardless of your chosen brightness level. While you can make adjustments locally on the fixture, you can also make them wirelessly from a distance. This is very useful when the light is mounted overhead or in hard-to-reach places. It is weatherproof (dust and water resistant) and built to withstand any shooting environment. When it comes to features Aputure has left no stone unturned. It has some special effects such as paparazzi, fireworks, lightning, faulty bulb, TV, pulsing, strobe, and explosion. Aputure has also generously provided a case for the included hyper reflector as well as a rolling case for storage and transport.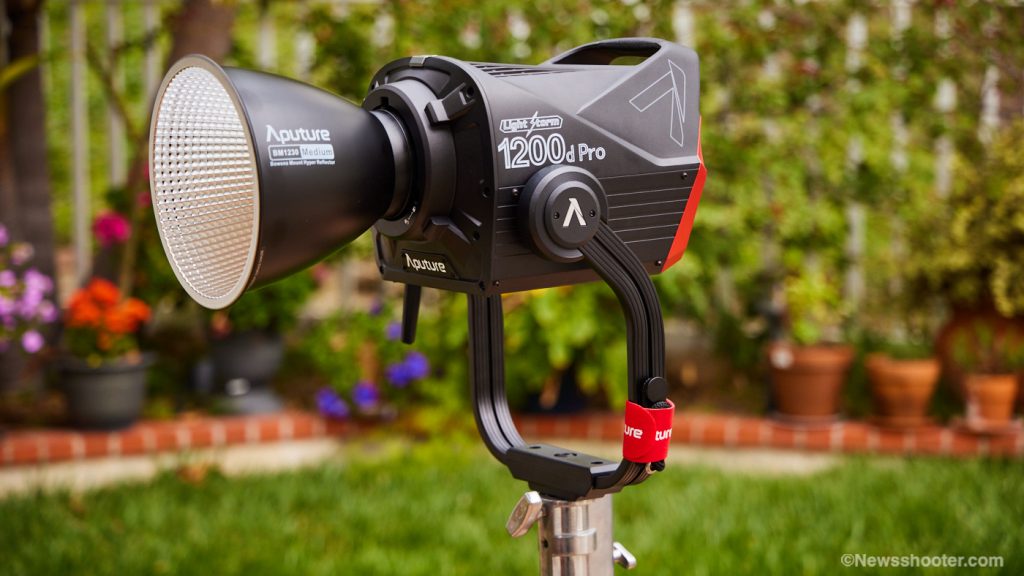 Below are some other features of the Aputure LS 1200D Pro includes the following-
1.) The Brightest Bowens-
The LS 1200d Pro is the first and only Bowens Mount LED on the market with a 1200W COB. This makes it the highest output LED fixture compatible with Bowens Mount modifiers like Aputure Light Dome soft box and Lanterns. The LS 1200d Pro can also be accompanied by Bowens Mount soft box made by manufacturers such as DoPchoice and Chimera Lighting.
2.) 3 Hyper Reflectors-
To adapt the output and beam angle of the Light Storm 1200d Pro to your shooting scenario, the 1200d Pro kit includes 3 different Hyper Reflectors optimized for the size of it's COB.
3.) IP54 Weather-Resistant-
The LS 1200d Pro joins the Light Storm Pro series, featuring an IP54 weather-resistant design. The LS 1200d Pro can withstand challenging inclement weather environments. Some feature that allow it do so include the waterproof fans, sealed internal structures, rubber caps for all ports and weatherproof connectors.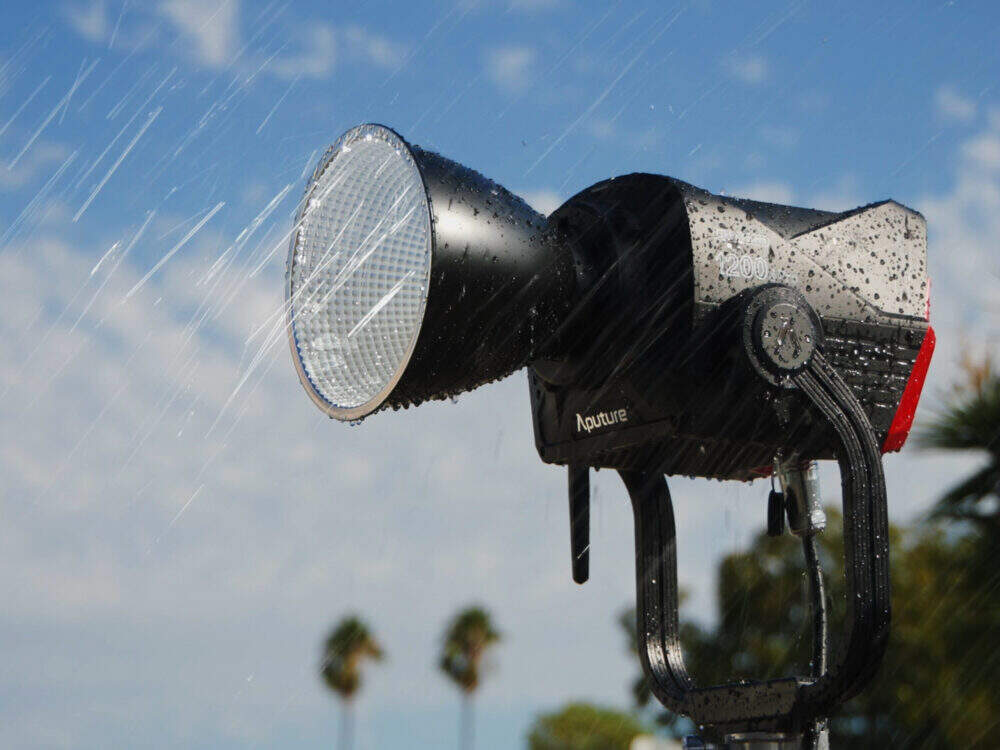 4.) 0.1% Stepless Dimming-
It has stepless dimming and light control in 0.1% increments, ensuring that you get the exact amount of light that you need.
5.) Professional Controls-
The Light Storm 1200d Pro integrates sACN and Art-net via a durable etherCON connector, as well as wireless Lumenradio CRMX. In addition, it has responsive on-board controls, DMX512 5-Pin XLR In and Out, and Sidus Link® app compatibility to seamlessly integrate into existing lighting workflows.
6.) Sidus Link-
Sidus Mesh integration allows users to control the 1200d Pro from nearly any smartphone or tablet with the Sidus Link mobile app up to 400 meters away. This can be done with the addition of other fixtures like the Aputure LS 600d Pro, LS 600x Pro, Accent B7c, MC, and Nova P600c.
7.) Color Accurate-
With exceptional color accuracy measurements of CRI ≥96, TLCI ≥98, CQS≥95, and SSI (D56) ≥73, the 1200d Pro provides consistently accurate light quality for all filmmakers.
8.) Redesigned Control Box-
As the flagship Light Storm product, the LS 1200d Pro also features a new control box design. The new control box has DMX512 In and Out ports, an industry-standard etherCON connector, two 48V/15A 3-pin XLR Inputs, and an AC Input. These are all housed on the side of the fixture in an orientation that maximizes flexibility while minimizing damage. This allows the control box to be positioned upright on its feet, so it can be set down on set seamlessly. The control box also features two Lightning Clamps for different orientations on your light stand.
8.) Power Solutions-
The Light Storm 1200d Pro is high-powered fixture with a maximum power draw of 1440W. This allows it compete on the same level as HMIs, while still featuring the ability to be operated using DC battery solutions. The 1200d Pro's control box has two 48V/15A (720W) DC Inputs. Providing power to one input will operate the 1200d Pro at half power. Also, providing sufficient power to both inputs will operate the fixture at full output. The LS 1200d Pro can also easily be powered using a Honda 2000W generator compared to comparable HMIs that might overload the system.
9.) Built-in Lighting FX-
The LS 1200d Pro can utilize 8 different built-in light effects: "Paparazzi", "Fireworks", "Lightning", "Faulty Bulb", "TV", "Pulsing", "Strobe", and "Explosion". The LS 1200d Pro also has the potential to expand further into the SidusPro FX ecosystem.
10.) Advanced UI-
The LS 1200d Pro features a detailed LCD screen interface. It also has a revamped professional UI that displays important information in an intuitive way. It also has easy-to-read intensity and color information.
11.) Dual Carrying Cases-
Housing the 1200d Pro's lamp head, redesigned control box, and 3 Hyper Reflectors, the 1200d Pro is accompanied by a rolling lamp case, and reflector carrying case. This makes transporting the fixture to and from set a breeze.
Finally it is important to note that the LS 1200D can be used to replace the sun sometimes as the output is very bright and comparable to HMIs. "…we wanted some sort of backlight a lot of times, and also oriented a lot of scenes to the sun. So in the absence of the sun, the 1200d became the light we'd use for that." – Bongani Mlambo, Cinematographer – shooting We're All Going to Die (dir. Freddie Wong, Matt Arnold). The LS 1200D comes in a complete bag pack (check content in the picture below) and it goes for about $3,390.00.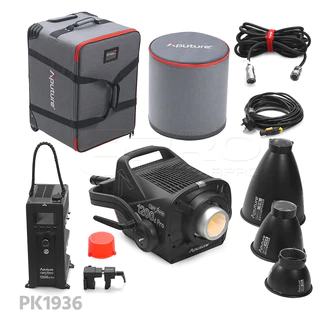 CREDIT- https://www.aputure.com/products/ls-1200d-pro/
https://www.bhphotovideo.com/c/product/1664686-REG/aputure_apa0249a25_ls_1200d_pro_led.html/overview?currency=EUR&gclid=EAIaIQobChMI2q7SuI_n-gIVxwiLCh03LA4kEAAYASAAEgK_dvD_BwE